How To Determine Bracelet Size
How To Determine Bracelet Size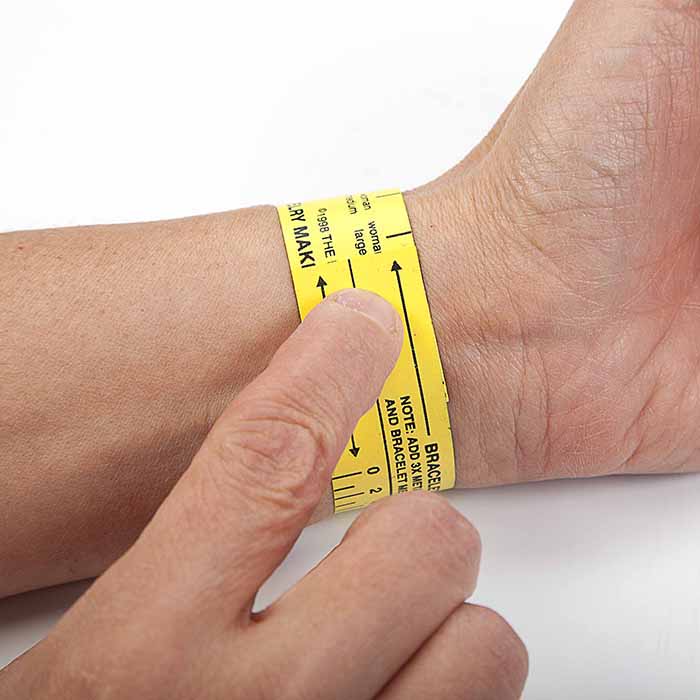 Description
The simple instructions in this how-to help you accurately size the bracelets you design and can help your customers determine the bracelet size they need when purchasing a finished bracelet.

Refer to the information below for basic guidelines to men's, women's and children's bracelet sizes. Please note these are approximate measurements. If you need an exact measurement, you can follow the instructions below to find your correct size.

Children's Lengths
 Newborn-6 mos. - 4"
6-12 months - 4-1/2"
12-24 months - 5"
2-5 years - 5-1/2"
6-8 years - 6"
9-13 years - 6-1/2"


Women's Lengths
Petite - 7"
Medium - 7-1/2"-8"
Large - 8-1/2"
Plus size - 9"
Ankle bracelet* - 9-1/2"-10"
*Anklets usually include a 1"-2" extension.


Men's Lengths
Small 8"
Medium 8-1/2"
Large 9"
Plus size 9-1/2"
How to Find an Accurate Bracelet Size
To determine bracelet size, follow the steps below.  
1. Measure the customer's wrist below the wrist bone (where you would normally wear your bracelet) using a bracelet gauge, a flexible measuring tape or a strip of paper.  
2. If using a plain strip of paper, mark your strip with a pen where the end of the bracelet needs to be. Then measure the paper strip with a ruler. This is the wrist size.  
3. To find the bracelet size, increase the wrist measurement by the increment below, based on how the customer wants the bracelet to fit.
For: a snug fit, add 1/4" to 1/2".
For a comfort fit, add 3/4" to 1".
For a loose fit, add 1-1/4".
How to Determine Bangle Bracelet Size
1. Ask your customer to close her fingers together, bringing her thumb and little finger together (as though putting on a bangle).  
2. Using a strip of paper or tape measure, measure around the closed hand at the widest point, pulling the tape snug against the skin. If you are using a plain strip of paper, mark the paper with a pen, then measure the strip with a ruler. This is the circumference of her hand.  
3. Find the hand circumference below. Create (or choose) a bangle with a diameter at least 1/4" larger than the diameter shown below.
Converting Circumference to Diameter 
7-1/2" is approx. 2-3/8" dia. (small)
8-1/4" is approx. 2-5/8" dia. (medium)
8-5/8" is approx. 2-3/4" dia. (large)
Bracelet Size Conversion
You may see, or want to offer, bracelets with a specific size (rather than small, medium, large, as shown above). If so, you can simply convert the numeric size into a wrist circumference by subtracting 0.5 from the bracelet size. For example, a size 6.75 bracelet is a wrist circumference of 6.25" (6-1/4"); a size 7.25 bracelet is a 6.75" (6-3/4") wrist circumference.
---